Organic, Gluten-Free Arborio Rice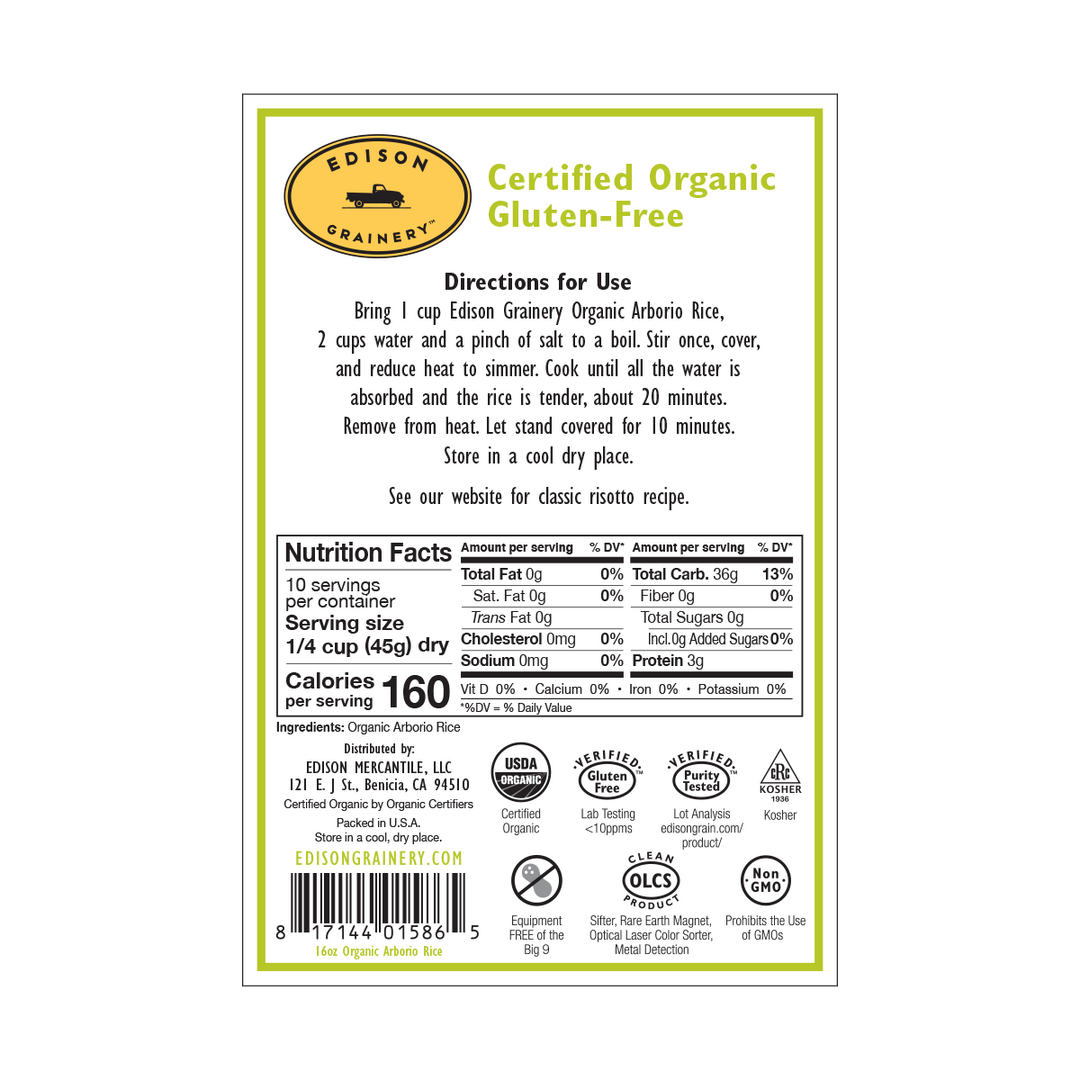 Description
Organic Arborio Rice.

Countries of Origin: Argentina
Technical Info
Tech Sheet - Organic Arborio Rice
Lot Specific Certificates of Analysis (COA):
Risotto recipe:
Classic Risotto
INGREDIENTS
6 cups vegetable broth (or chicken broth)
2 tablespoons vegan butter (or dairy butter)
1 small yellow onion finely minced
4 cloves garlic, minced
2 cups dry organic arborio rice
3/4 cup dry white wine
1 cup vegan parmesan (or dairy parmesan)
Salt, to taste
Ground black pepper
INSTRUCTIONS
In a medium pot, add vegetable broth to boil and reduce heat to low.
In a medium saucepan over medium heat, add butter. After melted, add onion. Cook and occasionally stir for 2 minutes. Let lightly brown, but do not burn. Add garlic; cook for 30 seconds, stirring, then add rice. Stir and cook until rice is lightly toasted, about 2 minutes.
Add wine and stir until all wine is absorbed, about 2 minutes.
Ladle about 3/4 cup of the warm broth into the rice mixture. Stir frequently, until all broth is absorbed. Careful not to burn the rice, reduce heat if necessary.
Repeat this step until the rice is al dente (25-30 minutes)
When the rice is al dente, turn off the heat.
Add parmesan, salt and black pepper; stir. Taste and add more salt and pepper if needed.
Our products are grown and processed according to federal guidelines governing: Soil quality, pest and weed control, crop and livestock nutrition, the use of additives and conservation of biological diversity.
Edison Grainery products are certified organic by Organic Certifiers.
Our products comply the 3,000 year old Jewish dietary guidelines with regards to how it produced, processed and prepared. Chicago Rabbinical Council (cRc) is the largest community based non-profit Kosher organization in the world. 
Our products have been run through our dry mechanical cleaning line, utilizing one or more of the following: Vibratory Sifter, Rare Earth Magnet, Optical Laser Color Sorter and Metal Detection.
Edison Grainery analyzes all incoming product lots for biological, chemical and physical hazards. Lot code specific Certificates of Analysis (COA) are available on all product pages (see above).
Edison Grainery validates that our product has been tested by an ISO Laboratory using the AOAC Method (Ref. 601201) and contain less than 10ppms of Gluten. Lot code specific Certificates of Analysis (COA) are available on all product pages (see above).
Edison Grainery production equipment is Free of the Big 9 Allergens: Milk, Eggs, Fish, Crustacean Shellfish, Tree Nuts, Peanuts, Wheat, Soy and Sesame.
Official National Organic Program (NOP) rules prohibit genetic engineering and require routine testing for GMO's as part of our agreement with our organic certification partner. Edison Grainery only offers certified organic ingredients procured from reputable certified suppliers.
 **Not all certifications apply to all products. See product page headers for applicable badges.**